Well, I didn't get to hold the koala after all, but I did get to pet one! The three of us went to Koala Park and saw all sorts of things. Koalas are nocturnal, so all of them were sleeping when we arrived. I guess there are about thirty of them allowed to roam freely through the park. A few of them are gathered to sleep in a certain area so one can easily be found and woken for petting times throughout the day. The marsupial was more interested in the eucalyptus leaves the ranger was bribing him awake with than us, and pretty much ignored the pats and flashing cameras.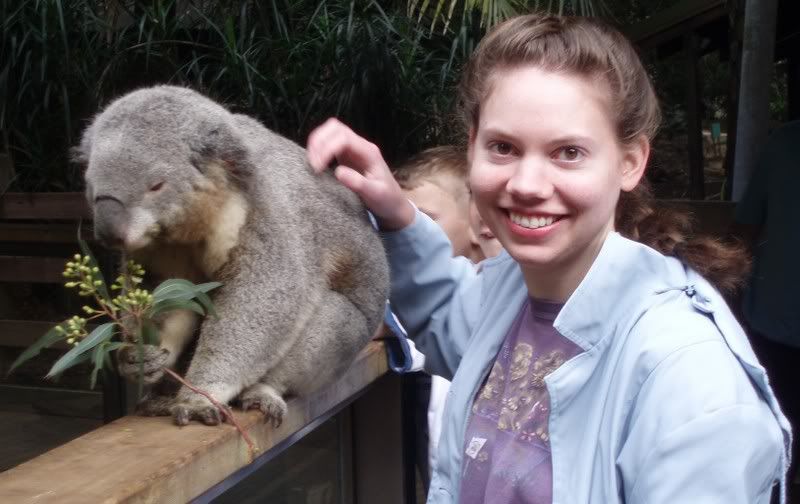 We each got a turn petting him and posing for pictures. He was quite wooly, similar to very short sheep's wool, and a tad greasy feeling like that, also. It was quite soft. Pat, to answer your question about smell, I didn't notice it, but someone else commented on the smell and the ranger said it was from the eucalyptus diet. So you were right that they smell a bit. ;-)
The Koala Park had a ton of other animals, such as dingos, peacocks, an echidna, kangaroos and wallabies, emus, kookaburras, and such. There was also a very disturbed wombat. Poor thing was pacing in an unvarying pattern in just a small section of his enclosure. He was still plodding blindly when we came back by on our way out, and I finally thought to throw him some of the Cheerio-like food we'd bought for the animals. The snack successfully broke the spell, and he paused to eat.
In one area we were allowed to go in and play with the grey kangaroos. They ate the cereal out of our hands and let us pet them. They are a bit wooly, too, and very soft. One kanga reached up and held onto my hand as he ate. His long nails were rather prickly, but it was worth it!
There were various birds such as roosters, chickens, and wild birds wandering around, too. One pea hen became enamored with Chrissy's wheelchair, and followed us everywhere we went until we finally snuck out of the kangaroo enclosure without her. She managed to find us later, though. LOL!
After the park, we drove to a spot overlooking Sydney harbor's North Head, and had a lovely picnic there. Unfortunately I didn't enjoy it as much as I would have, because I was feeling pretty nasty for a few hours. After lunch I started feeling better after we got on a ferry across the harbor. It was quite lovely and I got to see the opera house quite close up. I got some great pictures of it, too, as you can see if you follow the link at the end of this post. When we passed through a smaller straight of the water, the waves picked up and the ferry rocked about in a delightful way--at least, I enjoyed it. ;-)
On the other end of the boat ride, we roamed through another open market in an area called The Rocks. I picked up some gifts for family, and we just wondered and looked. There were musicians and performers in that area, also. We stopped and watched a contortionist squeeze herself into a tiny glass box. She said she was the only street performer world-wide who could do that trick.
As we ferried back to Manly Harbor, I watched the sun setting above the bridge and opera house--a picture that has become rather a trademark of Australia. Somehow it really sunk in--I'm in Australia!!