As a special treat to celebrate
B
in our A2Z meme, I'm excited to have
Brandilyn Collins
with us today. She is the Christian author of the popular Seatbelt Suspense
®
books and is one of my favorite writers.
Brandilyn, thanks so much for joining us.
BC: Amy, nice to be with you and your readers. I'll do my best to behave (but make no promises).
Haha, thanks! As I mentioned, I love your books and have gained a lot of inspiration from them, especially now as I'm writing a suspense book myself. Your first books, The Bradleyville Series, are contemporary Christian fiction with smaller elements of adventure. What prompted the switch to focus on the suspense genre?
BC: I didn't really switch genres so much as focus. At the beginning of my career I was writing in both the contemporary and suspense genres. For marketing and branding purposes I needed to choose one genre. Suspense seemed the best choice at the time, due to its sales. I really did mourn losing contemporary for awhile. But choosing a genre was the right thing to do. To this day, I find that having written contemporaries really helps me in my characterization in suspense. (And when I wrote contemporaries, you can see my pull toward suspense in each of them.)
By the way, for those of you out there who don't like suspense, try reading my Color the Sidewalk for Me. This is the second book in my Bradleyville series, and I think it's the best in the series. In fact I think it's one of the best books I've written.
The title of that particular book is what first drew me to read your work, actually. It's such a lovely word picture and I enjoyed the story, as well.
I know several other of my blog readers also write suspense. Do you have any advice for those of us writing in that genre?
BC: Well, it's very hard. I find it way harder than writing contemporary fiction. Suspense has some strong conventions: tighter and tighter trouble for the protagonist, chapter hooks, twists, etc. A good surprising twist is difficult to pull off. I always write on two levels—the surface level of what I want the reader to believe, and the underlying, real level where the truth resides. Often individual sentences must be able to sound correct for both levels. I lead the readers to assume A or B or C (regarding who the bad guy is and the outcome), when the truth is really D or E. Or A and E. Or F and Z. You get the picture. The reader will read a sentence with the assumption in mind. But when the truth is revealed, that reader should be able to go back and relook at the sentence and say—"Ah. That's how she fooled me." Calls for some very careful, precise writing.
If you're going to write suspense, find some good suspense writers you enjoy and read them. Notice how they handle story structure, characterization, twists, chapter hooks, etc. I found when I was learning how to write fiction that my growth came 50% from reading and 50% from writing. Also—don't forget that no matter how brilliant your premise is, readers will stop reading if they don't care about your characters. It's absolutely essential to make your readers empathize with your main character immediately. But without loading up the beginning with a bunch of backstory, which only slows the plot. And is boring. So there's a balance. And that's hard to find.
Sigh. Methinks in my next life I'll be a rocket scientist. It's easier.
I've got my work cut out for me! Glad I know some good suspense writers to study from. ;-)
When did you know you were called to be a writer?
BC: I can't give you a specific date. I come from a family of writers, and I've always had the love of drama. In fact, drama was my first major in college, before journalism. I went from creating characters on the stage to creating them on the page. Once I began writing fiction I used what I'd learned through acting to create my characters. I wrote a book that takes seven techniques from the art of method acting and tweaks them for the novelist. It's called Getting Into Character: Seven Secrets a Novelist Can Learn From Actors. It's helped a lot of people, which makes me very happy.
I'm one of those people who have been aided by that book
—
thank you!
You've had bouts with Chronic Lyme Disease yourself. I suffer from Fibromyalgia and ME/CFS and/or Ehlers Danlos Syndrome. Several of my blog followers also have debilitating chronic illnesses. I find it very difficult to find enough creative energy to write when my fatigue is acting up, which is often. Do you have any advice for writing in the midst of the fatigue, pain, and brain fog that comes with these types of conditions?
BC: You can only do what you can do. I'd say push through it as much as possible, but writing is not as important as your health. During my difficult time with Lyme in 2002-2003, I fought to write when I had such terrible brain fog. Amazingly I managed to write about 2/3 of a book. But then I became so sick that I simply had to stop. Had to call my editor and say, "I can't do this. I have no idea when this book will be done, but I must stop." And it was the right decision. I simply couldn't push myself any more. I felt such relief to stop trying.
Do you have any general advice for those of us working on manuscripts or pitching completed ones to agents and publishers?
BC: Keep at it. That's all I can tell you. Writing is a very, very hard business. Being rejected is very hard. (I know—I worked for 10 years to be published in fiction.) Along the way, if you want to quit—quit. Kick a cabinet or two and walk away. If you're meant to be a writer, you'll come back. If not, you'll find what you are meant to do. I quit, oh, two to three times during that decade I was trying to land my first contract. Did me a world of good. Cleared my head, and by the time I came back I was ready to fight again. Besides—and hear me good now. (Perfect grammar or not.) Once you start being contracted, you can't walk away. You can't quit. You have to create, no matter if you've got a fever, or your kid is giving you fits, or your creativity is completely gone, or your parent dies, etc. If you're not yet published, enjoy the ability to write only when you want to. I understand the push to be published. But I do wish I'd better enjoyed the time when I wasn't. I could have been a lot easier on myself. The process is hard enough, and we writers tend to beat up on ourselves. We're all a flaky lot, generally. Especially novelists.
I can especially appreciate that advice now as I'm starting to feel the extra stress of having a publisher waiting to read my Reaching Sky manuscript. Speaking of current projects, can you tell us a little about the books you are working on right now?
BC: Right now I'm just starting my 25th book, called Sidetracked. Another suspense. Last May my novel based on Lyme disease was released—Over the Edge

.
On March 1 of this year my next novel is released—Gone to Ground. This is a great story, if I do say so myself. Three women in small-town Mississippi all realize to their horror that they've learned the identity of the serial killer who's murdered six women in their town. And that person is someone very close to them. Each woman must make the difficult choice to bring the man down. But each woman suspects a different man. The book is told in first person from each of the three women—Cherrie Mae, black, 62; Dina, white, 36, and Tully, white, 19. Two races and three generations. Makes for an interesting mix. You can view the character-rich trailer here. I went to Mississippi to audition people for the voices so they'd sound right. And the Cherrie Mae on the video is the real-life Cherrie Mae I interviewed before writing the book (to get the African American dialect right). I ended up using her name for my character with her permission—then her actual voice on the book trailer.
In mid-October my next book will release. Double Blind is about a brain chip implant—gone terribly wrong.
Ah, nothing like making characters suffer.
Those sound exciting! And the trailer must have been fun to make. I'm looking forward to reading them.
Now just for fun, tell us something about you that isn't writing related.
BC: 1. I'm horrible at mechanical things. So bad it's not funny.
2. I can't kneel or squat, thanks to the damage Lyme left in my knees. Even after my miraculous healing from Lyme (if you haven't read that story, please do!), this has continued. Amazingly I can still run my daily miles. So it doesn't affect me too much.
Thanks, Brandilyn, for being here today!
BC: Thanks for inviting me. By the way, all you readers out there, if we're not connected on FaceBook, just why not? You're missing out on Today's Word. Think how much smarter you could be. You can find me here.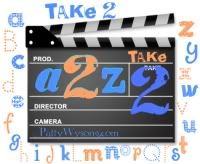 Hop over to FaceBook to join Brandilyn's page and then check out my friends'
B
blog posts through the Mr. Linky on the bottom of
Patty Wysong's blog
. See you all next Tuesday.