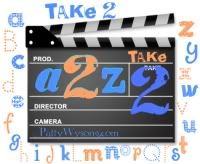 I took a break from blogging during November and if I'm not careful I could fall back into the very long apart, random blog posting that does not happen more often than it does. But what is the sure antidote for a neglected blog? A meme, of course! My friend Patty Wysong talked us into doing the A 2 Z 4 U & Me meme last year and I managed to post for all 26 letters. It worked so well we decided to do it again this year.
I've got some exciting posts planned, starting next week with an interview with one of my favorite authors, Brandilyn Collins. She kindly answered some questions about writing which I think we'll all benefit from. I think I'll play around with vlogging a little this year, too, and even do some fun story performances and the like.
Drawn by Amanda Morris
For this first post, I'll just give a quick update of the exciting things that have happened since I posted last. I was able to accomplish NaNoWriMo with just barely over 50,000 words. I fought a lot of fatigue that month, so I wasn't completely happy with my shambles of a disorderly manuscript, but I'm hopeful I have some good scenes to work with. A local lady in my area, Amanda Morris, is an artist and participates in NaNo by drawing character sketches for writers. This is one she did of my neglected child character, Renee. Isn't it great?
But for now
Voices of the Dark
is set aside to finish polishing up last year's novel. Which brings me to the exciting news that a publisher has requested the full manuscript of
Reaching Sky
! I'm excited to have that confirmation that someone else thinks my story and at least the chapters they saw have potential. I still have some work to do before I'm ready for them to see the whole thing, and the publisher generously gave me some feedback on something specific I can improve before I send it back. Now just to pray for energy to get it done, especially since I started back to work on Monday (even if it is only a couple hours a day).
Another exciting thing that recently happened is that one of my good friends, Jess Capps, finally got an answer to prayer and received a heart transplant. However, things got a little scary as the heart apparently went into shock and took ten days to recover. It was really hard being on the other side of the U.S. and not knowing much about what was going on. I'm praising God now that the heart did start working last week! I'm looking forward to chatting with Jess soon. I've missed her. [Added update as of the morning of Tues the 10th.] Looks like Jess's body is still having a lot of physical hurdles and is struggling. Please keep praying for her!
On New Year's weekend I got to teach my church congregation a song in sign language for our Worship topic. It was so awesome to see the whole church worshiping in ASL together. Many people told me they were amazingly blessed to be able to praise God with their whole body that way.
It's been a great start to 2012. Here's to many more blessings!
Check out more A posts at
http://www.pattywysong.com/